Behind The Collab: "Suga" Sean O'Malley
Sweet Sweat teamed up with mixed martial artist "Suga" Sean O'Malley—revered for his skills as a striker as much as his colorful showmanship—to launch a product that helps every athlete find their balance with two times the sweetness. The new Limited Edition Sweet Sweat enhanced with CBD allows athletes to embrace the Sport of Life and do more, both in and outside of the gym.
Since 1980, the Sweet Sweat topical has helped athletes reach their fitness goals by providing a comfortable and flexible solution to the discomforts of training. Just recently, Sweet Sweat followed Sean into a Sweat Test where, wearing his signature rainbow hair on the scale, Sean clocked in at 161.8 lbs. After lathering himself in Sweet Sweat and doing a single 30-minute moderate bike ride, his weight decreased by an amazing 3.4 pounds. For his next fight, he'll need to cut down by over 25 lbs. to qualify for the title against Aljamain Sterling in August. A mere half-pound over would knock him out before the fight even starts. Yet with a 16-1-0 record (11 of his wins by knockout), Sean is no stranger to the radical physical changes necessary for success—and he's using Sweet Sweat to help him achieve it.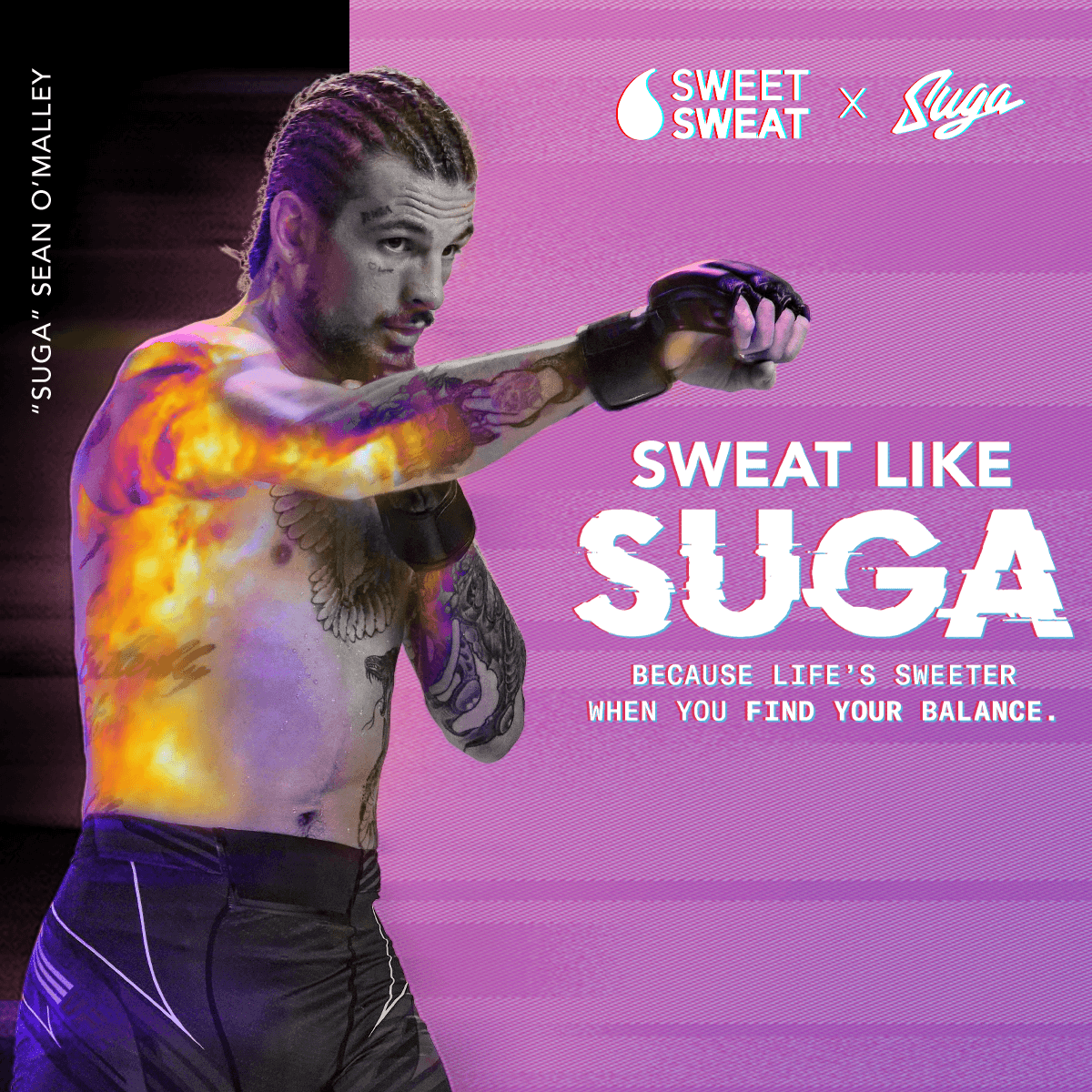 Sean's collaboration with Sweet Sweat didn't just end with the Sweat Test. As an outspoken advocate for plant wellness, O'Malley can often be seen wearing designs of the CBD-derived plant on his clothes, and jewelry, or even braided in his hair (see his rainbow hairstyle during his win against Thomas Almeida). That's why it seemed natural to collaborate with Sean on a CBD-boosted workout enhancer as a natural bridge toward helping other athletes and wellness enthusiasts find their balance, the Suga way. In addition to promoting circulation to targeted areas, accelerating warm-up times, and slowing the buildup of lactic acid—your body, and life, will reap more of what holistic wellness has to offer. It's a whole new experience: one that flows into every area of your life.
"Suga" Sean, who is known not just for his elite skills as a striker and unique style inside the cage, but his crowd-pleasing antics outside, knows a thing or two about well-rounded star power. His ever-changing bright-colored hair, funky fits, and audacious persona draw in crowds from every corner. Meanwhile— with a stance that switches casually from orthodox to southpaw and an arsenal of vicious spin moves— he dances and strikes his opponents like a matador. It's no wonder he's the face of a product as bold as himself.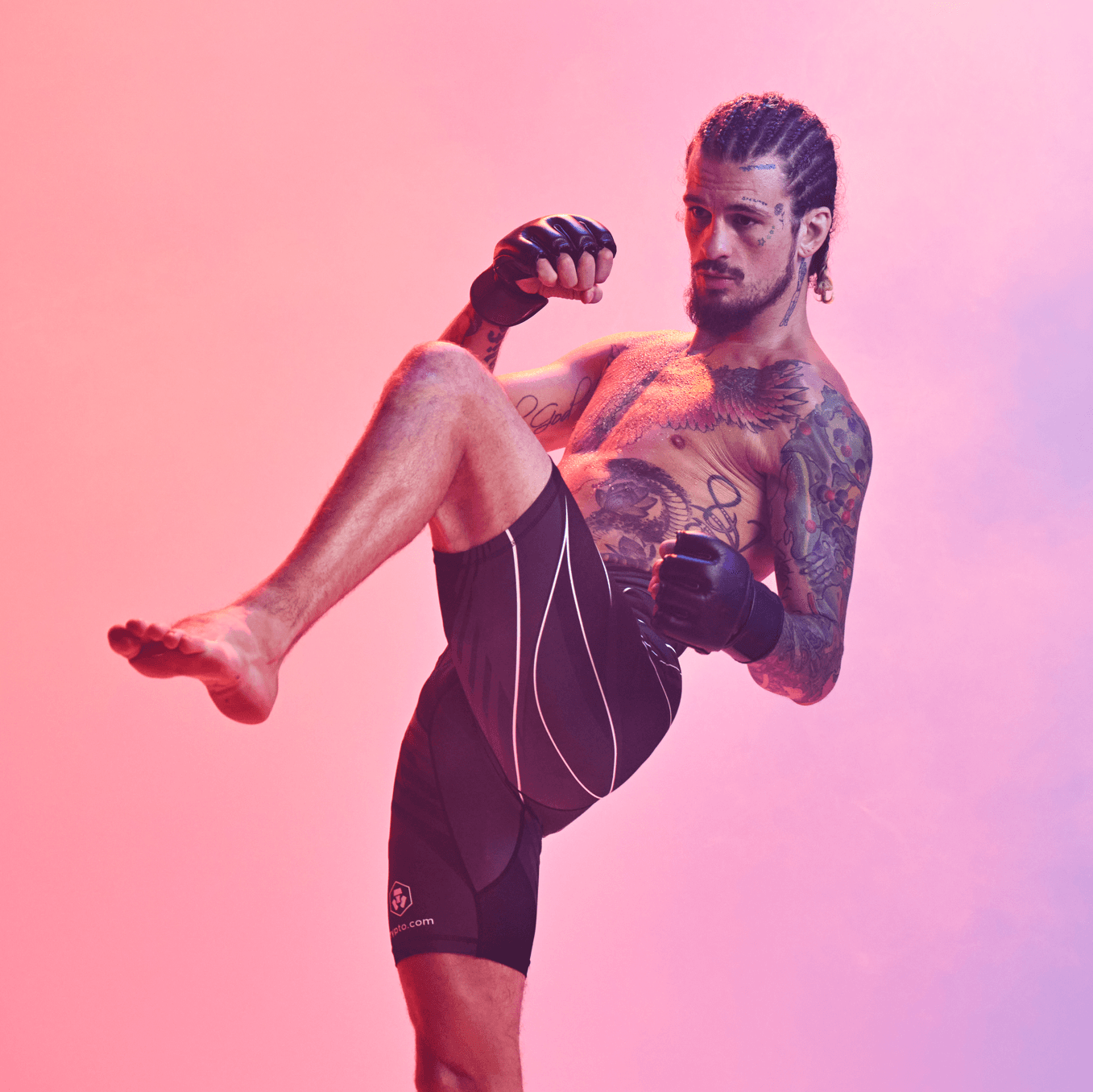 The fighter, father, and entrepreneur wants to be the next big face of his sport, and he's well on his way. For the past 40 years, we at Sports Research and Sweet Sweat have strived toward the same excellence— to create, innovate, and champion products that empower athletes in the Sport of Life to become their most excellent selves. That's the real Suga way, and the real Sports Research way.